The Pandemic Is Changing The Face Of Our Workforce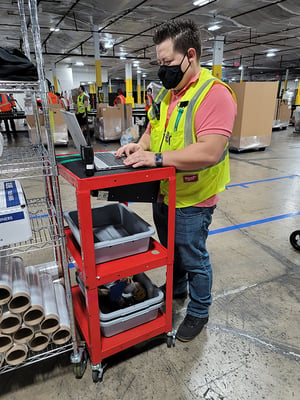 The COVID-19 crisis is having a significant impact on our lives and our livelihoods. The North American workforce has been crippled by unprecedented spikes in COVID-19 unemployment in just a few short months. In fact, 20.5 million Americans lost their jobs in April alone. And there's even speculation that the unemployment rate, the highest since the Great Depression, is actually closer to 25%.
On the surface, that may sound like good news for companies who need to recruit for their supply chains. After all, with so many people out of work, there's a nearly endless pool of candidates from which to choose.
But in these challenging times with an unstable economy and an applicant pool that seems infinite, the difficulty becomes finding the right people among the masses. That's more important now than ever because you can't afford to risk your quality or productivity when profits are down and the future is unpredictable. The wrong workforce can result in supply chain disruptions and, ultimately, dissatisfied customers. It can also put your company at risk of safety violations and injuries.
The Right Supply Chain Staffing Solution Makes The Difference
With an embedded workforce solution staffing your supply chain, you can offload the recruitment, retention and management of the team so that you can focus on staying competitive in a tough market. If you're reading this, you're likely already using one of these agencies — but is it the right one?
You should look for an embedded workforce partner that is:
Dedicated to serving you in order to ensure ROI and efficiency, while also serving their talent to deliver high employee engagement and retention
Obsessed with safety at all times, putting it at the forefront of their culture and practice
Focused on driving success for you and their associates, with collaborative teams who take pride in their jobs and do their best work every single day
Accountable for their performance, providing measurable and clear data on results
Most importantly, your workforce solution must truly align with your business goals. The reality is that typical hourly-based staffing solutions are actually designed to work against your core objectives. They're motivated to pile up OT so they have more billable hours to charge. When you find a partner who aligns with your goals of improving supply chain quality and performance without driving up the labor cost, you remove friction and add momentum towards success.
Look For A Choice Of Models — And A Different Approach
To work with your company's goals instead of against them, you'll need a choice of engagement models to consider. Your options could include Cost-Per-Unit (managed piece rate), Fixed Hourly (temporary workforce solutions), and Managed Supplier Program (MSP).
At Eclipse IA, we believe you deserve the power to choose the model that's right for you. We also believe that the best supply chains are powered by workers who care: about you and your business, and about doing the best job they can. That dedication translates to results, as proven by technology-based reporting, giving you visibility into your labor costs and ROI. This type of staffing flexibility is how you can weather storms like the current unemployment crisis.
If you're ready to discover why Eclipse IA is a different kind of embedded workforce solution, contact us today.