During the "Great Reshuffle," it has never been more important to recruit and retain the right talent, especially in the Light Industrial sector. Blue-collar workers have more leverage than any year in recent memory to both pick the job that benefits them the most and to leave one that is no longer satisfying their wants and needs.

How can HR and Operations keep their existing employees happy and attract top talent? Per Employ Bridge's 2022 report that surveyed over 19,000 blue-collar workers, these employees know what they want – shift and schedule flexibility, benefits, chance for advancement, just to name a few.
Learn more about what they desire in their employment, their increasing expectations in pay, what motivates them, and how we can help if you're struggling with recruitment and retainment.
TOP FACTORS BLUE-COLLAR WORKERS CONSIDER FOR STAYING IN OR LEAVING A JOB
In the Light Industrial sector, employees have more choices than ever when it comes to places to work. Businesses across the board, from food and beverage to retail and eCommerce, are in need of these employees. While some employers are offering unique perks like sign-on bonuses or a week of paid vacation upfront, the top factors that blue-collar workers are considering most strongly when looking for a new opportunity or staying in their current position are:
Shift and schedule
Competitive Pay rate
Benefits, including 401K
Flexible schedules
Chance for advancement
Company culture
INCREASING EXPECTATIONS AROUND PAY
While shift and schedule ranked as the top factor for deciding whether to stay or leave a workplace, pay rate was #2 on blue-collar workers' list of top reasons to stay or go. Just how much are Light Industrial Workers making these days? According to The Bureau of Labor and Statistics, the average pay in 2022 is approaching $15 an hour.

Interestingly, however, per the Blue-Collar Worker Report, 82% of respondents said they would decline a $1/hour raise for 5 PTO days. Also important to this group of employees is:
Pay increases based on performance, attendance and quality of work
Pay increases annually
Pay increases every six months
Pay increases when a new skill is learned
WHAT MOTIVATES WAREHOUSE WORKERS?
When it comes to top motivators, shift, pay, and benefits are high on the list. In fact, when it comes to shift preference, a whopping 70% prefer first shift and would need to be paid at least $2 higher per hour to consider working another shift. In fact, some employers are already paying $3 more per hour for second and third shifts.

According to Chron, these factors also help create a positive culture for blue-collar workers:

Holding regular meetings
Giving routine evaluations
Setting short- and long-term goals
Offering special projects
STRUGGLING WITH RECRUITMENT AND RETENTION?
If you're struggling to find and keep employees, Eclipse Advantage can help. We're experts at recruiting and staffing blue-collar workers across a multitude of industries, including grocer, food manufacturing and production, retail, e-commerce and automotive parts.

During the height of the pandemic, Eclipse worked with 22 new sites. Some were start-ups requiring 50- 400 workers, and other sites transitioned with the goal of retaining 90% of the workforce. Each time, we exceeded our client's workforce expectations.

Our unparalleled expertise in the Light Industrial sector has led some of the world's top companies, including Home Depot, IKEA, and Kuehne & Nagel, to use our innovative approach to recruiting and staffing at many of their sites – with great success.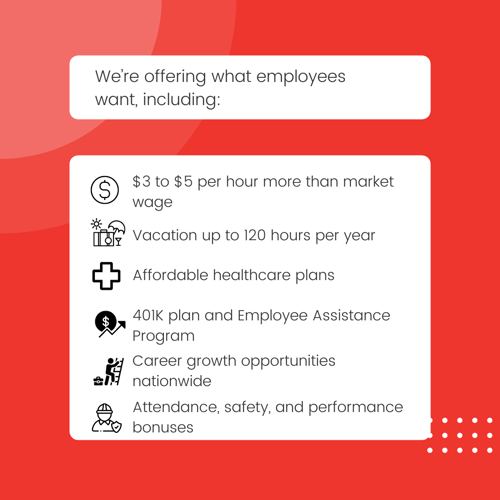 Our unique staffing solution allows for increased productivity, higher wages without added cost to you, and improved employee retention.

If you're looking for a partner that can help your company with recruitment and retention in the US or Canada, reach out to our team today!
Related Articles
How To Implement a Productivity Pay Model for Greater Returns
Benefits of a Productivity Team-Based Pay Model in Your Warehouse