Melbourne, FL (July 12, 2022) – Eclipse Advantage, LLC, a leading Supply Chain Workforce Solutions provider, announces Doug Dandurand as President of its On Time Staffing, LLC, division and member of its executive committee. Simultaneously, Eclipse Advantage also announced Brian Richmond, current COO of Eclipse Advantage, in a new role as President of its Managed Labor Division, Eclipse IA. These announcements come at an opportune time for Eclipse Advantage and its focus to become the leading provider of supply chain workforce solutions across North America. Dandurand will report to Pete Westermann, CEO of Eclipse Advantage.

"We are pleased to have Doug join our team," said Pete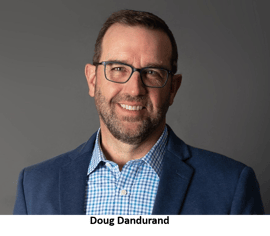 Westermann. "With engagement and retention being more important than ever, Doug brings a wealth of experience in the light industrial staffing realm - he fully understands the challenges companies are facing with staffing shortages. Doug will bring innovative solutions to attract, engage and retain workers, which is instrumental in our client's success. We look forward to having him evolve On Time Staffing into one of the nation's largest and highest-performing light industrial recruitment providers."
Dandurand has over 20 years of expertise at global staffing agencies. In his past roles, he has been responsible for overall strategy as well as best-in-class customer service, driving year-over-year growth through his leadership.
"I believe that the low unemployment rate that existed prior to the pandemic has been further exacerbated by several issues that are making the restart extremely challenging for companies that do not have a strong focus on talent acquisition, engagement, and retention", stated Dandurand. "I am excited to be part of a team that relentlessly focuses the importance of culture and retention and on unique ways to ensure high-performing teams at our client sites."
Prior to joining On Time Staffing, Dandurand held positions as President at TalentLaunch, President at Advantage Resourcing, President at Employ Bridge, and executive positions at Randstad and Robert Half. He holds a Bachelor of Science degree in Business Administration from Kansas State University.
About Eclipse Advantage
Since 2003, Eclipse Advantage, LLC, has delivered supply chain workforce solutions that improve productivity and enable accountability and visibility. The Eclipse brand offers turn-key workforce solutions in three models: cost per unit productivity pay; on-site hourly staffing; and a managed supplier program, allowing clients to choose the right fit or a hybrid approach. With 150 locations across the U.S and Canada, the Company supports a wide range of clients and recruits a nationwide pool of skilled candidates, resulting in a network of 20,000 associates, called Industrial Athletes. Their localized, on-site model enables fast ramp-up and true partnership with clients. To learn more, visit www.eclipseadvantage.com or follow them on LinkedIn.
About On Time Staffing
Founded in 1999, On Time Staffing is a national Onsite workforce management and temporary staffing services company headquartered in Cherry Hill, NJ. It specializes in providing the highest quality Onsite staffing, exclusively in the Light Industrial segment. For more information, please visit www.ontimestaffing.com.
Press Contact:
Karen Sassi
Eclipse Advantage
karen.sassi@eclipseadvantage.com