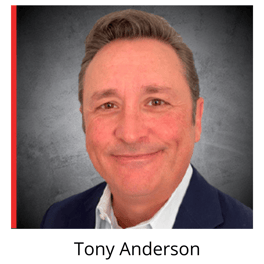 Melbourne, FL (November 18, 2022) – Eclipse Advantage, LLC (Eclipse), a leading Supply Chain Workforce Solutions provider, today announced the appointment of Tony Anderson as Chief Financial Officer (CFO). Anderson will report to Eclipse CEO Pete Westermann and will oversee all financial operations to support the company's growth and strategic expansion.
"We are pleased to welcome Tony to the Eclipse team," said Westermann. "His vast financial experience across the staffing realm will be a tremendous asset as we help our clients navigate the current market challenges around unemployment and wage inflation. I look forward to working together closely with Tony to ensure that Eclipse is well positioned to meet the evolving needs of our clients."
Anderson brings over 25 years of professional experience to Eclipse, with a focus on corporate financial and strategic planning. Over the past two decades, he has held financial leadership roles at staffing and workforce solution providers, most recently as North America CFO at Impellam Group. Prior to joining Impellam Group, Anderson spent 17 years with Randstad USA, completing his tenure with the company as SVP, Corporate Controller and previously SVP, Finance.
As CFO of Eclipse, Anderson will tap into his extensive experience in financial analysis and problem solving, budgeting, forecasting, pricing, financial and operational reporting, incentive compensation, and employee benefits.
"Many industrial companies are still feeling the pinch of labor shortages and rising wages, making post-pandemic recovery increasingly challenging," said Anderson. "As Eclipse continues to help our clients boost performance while reducing labor costs, I expect to contribute strategically and operationally to sustainable growth that directly impacts the bottom line."
About Eclipse Advantage
Since 2003, Eclipse Advantage, LLC, has delivered supply chain workforce solutions that improve productivity and enable accountability and visibility. The Eclipse brand offers turn-key workforce solutions in three models: cost per unit productivity pay; on-site hourly staffing; and a managed supplier program, allowing clients to choose the right fit or a hybrid approach. With 150 locations across the U.S and Canada, the Company supports a wide range of clients and recruits a nationwide pool of skilled candidates, resulting in a network of 20,000 associates, called Industrial Athletes. Their localized, on-site model enables fast ramp-up and true partnership with clients. To learn more, visit www.eclipseadvantage.com or follow them on LinkedIn.
Press Contact:
Karen Sassi
Eclipse Advantage
karen.sassi@eclipseadvantage.com